3 minute read
Written and posted (visual) goals on an office whiteboard help make the whole company aware of where you are headed and what you want to achieve.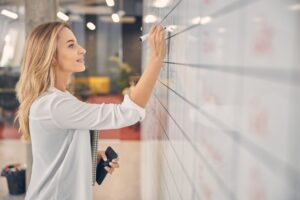 It's been my experience, having been in hundreds of "back offices," that companies posting their daily, weekly, and monthly goals on a bulletin board (or large calendar) dramatically improves the likelihood those goals or targets will be achieved. It's like the old saying… "if it's not in writing, it doesn't exist."  When goals, targets, and plans are made "public" within an office, everyone becomes aware of the key focus, and when the office is aware, it's much more difficult to ignore the target – and even worse when you fail!
In the back offices of many of my clients, they use a large whiteboard calendar so they can write in the dates and the dollar targets for the week or month. Using a large enough whiteboard can allow for more than one salesman to write their sales for the day and week. This makes it public within the office and keeps everyone aware that sales numbers are critical.
I especially like a separate calendar showing 90 days (or more), where planned events are posted for top-of-mind awareness. Here are some important reasons to take advantage of an office whiteboard:
Public written goals create clarity
Public written goals hold people accountable
Visual goals continually remind you
There is less resistance from all involved
See and celebrate the successes
See monthly progress – by the day or week
If your sales and marketing department has a target goal of $100,000 for the month and on day 15, you are only 25% of the way, it tells everyone that extra work effort may be required. It simply shines the light on the fact that the goal is in jeopardy of being missed!
In addition to the advantages of whiteboards and wall calendars for sales goals and upcoming events, there are several other great benefits to using whiteboards (dry-erase boards) around the office and even the shop. Here are several more:
Visible to the whole company
Great for quick brainstorming
Much-Improved staff communications
More efficient meetings
Visual tasks are easy to see
Because we are all busy, and most don't take detailed notes of meetings and conversations, the whiteboard serves as an excellent visual for highlighting important info. And, when the info isn't needed anymore, simply wipe it clean.
I am willing to bet big dollars, that if you start using bulletin boards, whiteboards, dry-erase boards, or large pre-made calendars in your office and shop, you'll find a significant improvement in staff communication, as well as a higher success rate in achieving sales numbers!
Want to talk about it?    Call me now:   Dick Wagner   419-202-6745
Nationally recognized coach, consultant, trainer, and speaker
Creator of the renowned PREP™ pre-disaster program
Copyright © 2020 – 2022    AskDickWagner, LLC   All Rights Reserved