4 minute read
Many restoration contractors have already learned of the benefits of onsite marketing training. I've had contra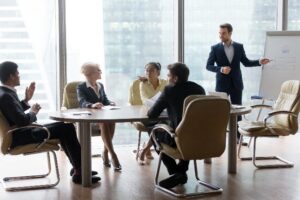 ctors hire me multiple times to return to their facility to train marketers, some of which were new, and several that just needed a refresher.
The best marketers still need reminders and refreshers periodically, and one of the best ways is to have the trainer come to your facility or close-by off-site location (hotel conference room). Many times, the owner or GM wants the staff close – but not in the thick of things at their office.
Utilizing an onsite training coach should always come with a plan to customize and tailor the training specifically for that company. Every company has a different corporate culture and a unique staff with their own style and personality. The community where they are located is also distinctive. People from New Jersey work, think, and act differently than people in Tulsa, OK, or El Paso, TX, or Seattle.
And even further, the makeup or demographics matter. A heavy industrial region thinks and operates differently than Silicon Valley or the Research Triangle of the Raleigh-Durham-Chapel Hill area. For all these reasons, it's extremely important the coach or trainer understands all these factors and adjusts the training, so it has maximum effectiveness for you. Don't let a cookie-cutter, one-size-fits-all coach or trainer come into your facility and try to force-feed his or her stock sales strategies or pre-packaged sales training on your people!
When you select a coach and trainer to work with your people – especially at your facility, be sure you are getting a customized class specifically for your company and your marketing staff.
Coaching– for the absolute best results – means the entire program and approach must fit the company style, preferences, and goals.
Before I take on a coaching assignment for an onsite client, I will spend several hours researching, as well as interviewing key people in your company. Without doing that homework, the best a coach can do is push his "pre-packaged" generic training at your people. Don't let that happen.
The benefits of onsite sales training can be huge when you hire the right trainer! When you hire me, expect to get a multi-page questionnaire, and phone calls with you and other key staff. With most trainers that you hire, you will be paying a lot, so you certainly deserve to get the absolute best for your time and money!  Call me! 419-202-6745
Dick Wagner, Nationally recognized Sales Coach, Consultant, Trainer, and Speaker
Co-Founder – The CREST Network, LLC 
Copyright© 2022     AskDickWagner, LLC     All Rights Reserved