4 minute read
Sometimes we need to say something absurd to get someone to take notice. Parking on your customer's lawn won't win your technician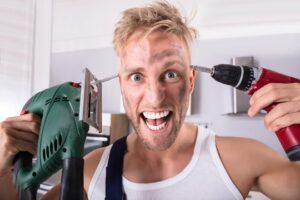 any points with the client and could very easily get your company kicked off the job. Remember; parking on your customer's lawn can get you fired – and fast.
There are a specific set of "rules" that should govern how a technician (or another staff member) acts when visiting a residential customer's home! Too many times, we "turn them loose" and fail to give them the proper training and guidelines on the right ways to interact when at the client's home.  Some are a matter of business etiquette that's fallen by the wayside. Others are safety issues. All of them are important to customer relationships.
Here are some suggestions on what to do:
Be on time (or call with your eta when you'll be late)
Park in the street (when you can)
Knock on the door and stand back
Greet them by name
Offer your business card
Ask if it's OK to park in the driveway
Ask permission to bring in tools
Confirm which door to use
Wear booties and use throw tarps or mats
It's OK to accept a beverage, but never with alcohol!
Ask open-ended questions (not yes/no questions)
Thank them for choosing your company
When done, ask them for a referral or Yelp review
Do them all correctly and they will love you. Do them wrong and you won't get another job from them.  These are just a few examples of the proper etiquette your staff should be doing at the client's property. Do it wrong (like we listed below) and customers will never hire your company again, come back again, or give you a good review!
Some things NOT to do or say:
Don't flick cigarettes across the yard when you get out of your truck
Do not park on their lawn
Don't be late
Don't ring the doorbell (chimes may wake up a sleeping infant)
Never ever smoke on the customer's property
Never use their bathroom without asking
Don't make comments about expensive things (guns, wall art, etc.)
Never ask if they "are alone"
Don't interact with pets unless the homeowner invites you to do so
Never trash your competitor
While talking with them, leave your phone in your pocket
Don't be negative about your company or staff
Don't wear dirty clothes or inappropriate attire
Do NOT ever touch your customer other than a handshake
Don't argue or challenge them on complaints or requests
Don't accept bribes or offers of "side work"
Service people are expected to arrive and work inside the people's homes with a high level of impeccable manners and professionalism all the while they are there.  Certainly, you can't be prim and proper working on HVAC ducting, fixing their basement flooding, or cleaning up a sewage overflow, but there are certain rules of etiquette that should be followed.
Maintaining that all-important respect for your client and their home is crucial, while still getting the job done. This business etiquette spans the entire customer experience from arriving on time, to where you park, to packing up your tools. Yes, it can be difficult to remember every detail of this complex interaction between good maintenance and good manners.     Yes, we do on-site training too!
Still need questions answered?    Call me now:   Dick Wagner   419-202-6745
Nationally recognized coach, consultant, trainer, and speaker
Creator of the renowned PREP™ pre-disaster program
Copyright© 2020-2022     AskDickWagner, LLC   All Rights Reserved